3d modeling
The above mentioned possibility can be used, of course, with only a small percentage of construction work. Concerning new original constructions, which cannot be fairly copied, its 3D model has to be created first of all. Then this is transferred into the photorealistic rendering and it is set in the building site photography. We have chosen another sample to illustrate this. It is a project of the low-mountain pump station in Velké Losiny. As the construction has already been carried out you can examine the difference between the model and the reality.
First, in a handy program that can work in 3D, it creates a spatial model of construction. He then also used for the projection of cross sections and elevations. From this model it is possible to create a complete project documentation.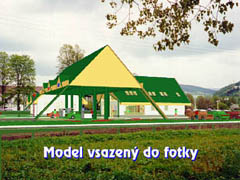 If the NPC is the designer knows how to use a camera, take a photo of the construction site from an angle that will best suit the requirements of photomontage. If the designer even handier (such as those of the company PIK sro) bets appropriate view to building model photo (this already but uses another unnamed software). And then slowly and touches up touches up and clears up ... and from that created this photomontage.
If a construction company complies with the design documentation and photographer remembers the place where he photographed the site for the first time, you can take a picture at the end of the finished building.
3D simulation and animation
forming 3D computer models (CAD) of constructions and their interiors, including their current state photography insertion
look-outs generation from random points of view, both exterior and interior of the object
creating animation sequences, i.e. passing through the object
recording 3D views and animation sequences on videocassettes - VHS